In the summer of 2021, Dr. Ron Slepitza, President of Avila University, announced his retirement effective July 2022. The Board of Trustees unanimously voted to hire Dr. James (Jim) Burkee as the 15thPresident of Avila University.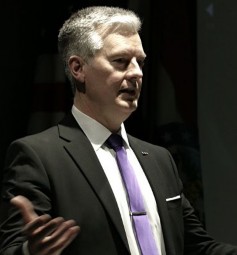 About Dr. James Burkee
Dr. Burkee most recently served as the Vice President for Strategic Initiatives at the College of Mount Saint Vincent in the Bronx, New York, where he led the strategic planning process, oversaw academic enterprise programs and successfully formed unique partnerships with Jewish and Muslim communities, public school districts and health care agencies.
Dr. Burkee held faculty leadership positions at Concordia College-New York and Concordia College-Wisconsin. In 2013, Jim returned to Concordia College-New York as Executive Vice President/Dean, holding responsibilities for academics, enrollment, academic program development, strategic business planning and development.
Dr. Burkee speaks of his work in higher education as a "calling." He brings a unique set of experiences as an academic leader from forming national and international partnerships to operating a family business and even running for political office. As the first in his working-class Wisconsin family to earn a college degree, he can identify with the challenges facing many students at Avila.
Dr. Burkee earned a B.A. in history and a B.A. in business/marketing from Concordia University, his Teacher Colloquy from Concordia College, New York, and his M.A. and Ph.D. from Northwestern University where he completed his dissertation under the mentorship of Dr. Martin Marty.
Since March of 2022, Dr. Burkee has been serving as Avila's Chief Operating Officer to aid in his transition to the presidency.
In late May, Dr. Burkee will join Mr. Jeffrey Chapman, recently appointed President of St. Joseph Institute for the Deaf, for a series of presentations developed by Sister Mary Flick as part of a program for new leaders at institutions sponsored by SJEM. Dr. Burkee and his wife, Hanen, have moved to Kansas City and are looking forward to being part of the SJEM community.